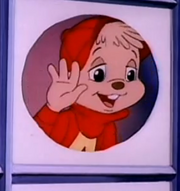 Hi, I'm Colliequest, but you can call me "Collie". Or "Quest". Or whatever. Anything goes, really. I'm Colliequest on deviantART and fanfiction.net, and futureRRB on YouTube. I'm a Christian, Conversative, dog lover, animal lover, and as of December 22nd, a recently revived AATC fan.
I also have an account on Wookieepedia, and so does my brother. He's "Ralphjedimaster".
My AATC obsession
Edit
My AATC fandom started in December 2009 after my mom showed me a clip from The Alvin Show that she had seen posted on a blog she follows. I'd always liked AATC before that (used to watch it on CartoonNetwork when I was little, remembered when Alvin and the Chipmunks Meet the Wolfman first came out, and had seen the 2007 movie), but then I fell head over heels for it. I've spent most of my life going from obsession to obsession, and each obsession tends to last at least a couple of years. So look for AATC fangirlness from me for a long time to come. I hope this AATC fandom lasts me the rest of my life, really. My views on the newer AATC movies from 2007 and up? Eh, they're alright. And the Squeakel was simply awesome. But I prefer the cartoon series just the same.
I call AATC an obsession, but I'm trying to keep it from being an obsession actually. Obsessing over something isn't really healthy...unless you're talking about the Bible. No one can ever have too much of that, IMO.
I'mma dog enthusiast, always have been always will be. God gave me a love for dogs (and animals in general) and it is because of this love that I can say I know more than a thing or two about dogs. I'm no expert and do not claim to be, but I have helped several people with some dog problems, both online and not. (Mostly online.) I am developing talents in art (drawing, photography), piano, writing, etc. Mostly piano-playing and drawing/photography. I'm generally very nice and polite, but I do have a brash side to me. I also have quite a temper, but I'm not generally easy to rile up and have developed more patience as I've gotten older. I'm generally patient and understanding with most people. I've always been something of a tomboy.
While I do want people to like me, I realize the important of being myself. I don't think "fitting in" is important and I don't think it's wise to get into something just because it's popular. If everyone jumped off a cliff, would you, too? But here's what I do want to fit into 100%: God's will for my life.
I don't keep up with what's popular because it's not important, so chances are I have no idea what music or fashion or whatever is "in style" currently. And even if I do, chances are I don't like it. Pop culture these days seems so...generally immoral, IMO. Basically I have very conservative views on just about everything. I only listen to music with a good message. The wrong kind of friends can influence you in the wrong way even if you're constantly on your guard, so I try to choose them wisely. I pretty much accept all friend requests as far as the internet goes, though.