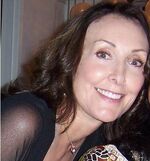 Tress MacNeille (June 20, 1951) is an American voice actress best known for roles in animated series such as The Simpsons and Futurama. She is also well known for voicing Daisy Duck in the Kingdom Hearts series, Hama from Avatar: The Last Air Bender, and Sarah Ravencroft in Scooby Doo and the Witch Ghost.
MacNeille provides the voice for many additional characters throughout forty-two episodes in the Alvin and the Chipmunks series.
External Links
Ad blocker interference detected!
Wikia is a free-to-use site that makes money from advertising. We have a modified experience for viewers using ad blockers

Wikia is not accessible if you've made further modifications. Remove the custom ad blocker rule(s) and the page will load as expected.