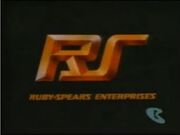 Ruby-Spears Productions
(also known as
Ruby-Spears Enterprises
) is a Burbank, California-based entertainment production company that specializes in animation.
The firm was founded in 1977 by veteran writers Joe Ruby and Ken Spears. Both men started out as sound editors at Hanna-Barbera and later branched out into writing stories for such programs as Space Ghost and The Herculoids. In 1968, they created Scooby-Doo, Where Are You! for Hanna-Barbera. They were also writers and producers for DePatie-Freleng Enterprises.
The firm's credits include the animated series Fangface, The Plastic Man Comedy/Adventure Show, Dink, the Little Dinosaur, Thundarr the Barbarian, Rickety Rocket, and other animated series such as Mr. T, Rubik, the Amazing Cube, Saturday Supercade, Turbo Teen, the 1983-1987 version of Alvin and the Chipmunks, The Centurions series, the new Looney Tunes series and movies, the 1988 Superman series, and the American Mega Man cartoon series.
Ad blocker interference detected!
Wikia is a free-to-use site that makes money from advertising. We have a modified experience for viewers using ad blockers

Wikia is not accessible if you've made further modifications. Remove the custom ad blocker rule(s) and the page will load as expected.