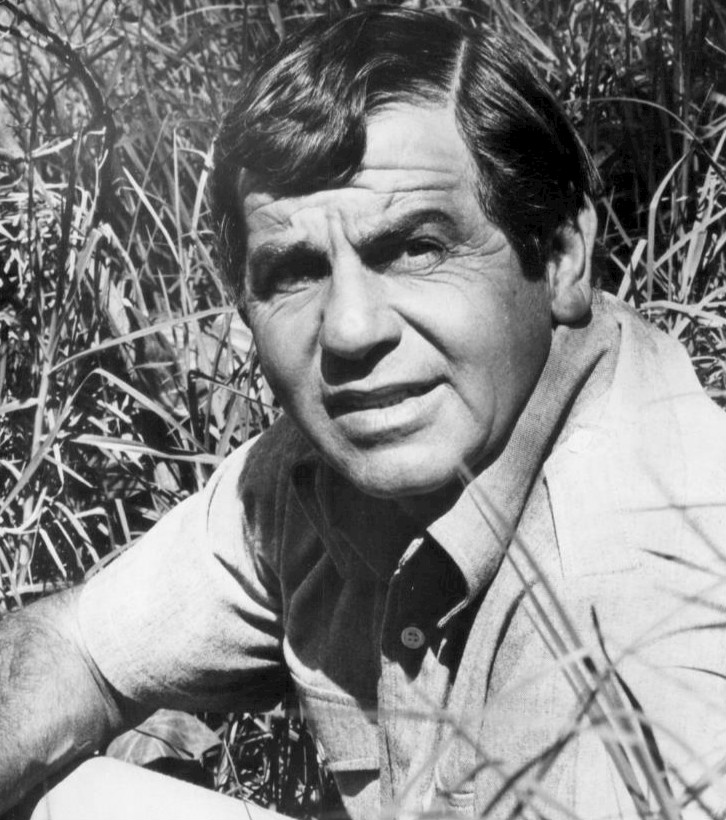 Ross Bagdasarian, Sr. (born Rostom Sipan Bagdasarian; January 27, 1919 – January 16, 1972) was the man responsible for creating Alvin and the Chipmunks as well as the original singer, song writer, and voice actor for Alvin, Simon, Theodore, and Dave.
Background
Ross was born in Fresno, California, which he, in his own words, described it as "an average sized town populated with 90,000 people." As well as being born there, he'd also attended school in Fresno; grammar school, junior school and high school. Until one miserable year in college when the boredom really set in. He'd wanted to be an actor, the man in charge, who many referred to as "Prof.", advised him that he should start by painting some walls a deep green. Ross told him he wanted to be an actor, and then quit. In 1927, he became famous with his family. He'd skipped the third grade.
He worked in grapes like his father, Dickran H. Bagdasarian, and at the age of 16, while driving a truckload of grapes from the vineyard to the packing house, he'd written his first song. He'd called it "Nuts to You", though some smart Alec he knew claimed that it wasn't what you would call a "ballad." When Ross looked back on it, it was a song thought. It had words and it had music when he sung it, it had spirit, but it wasn't a "ballad."
After quitting college, Ross decided that if he was going to be an actor the thing to do was to go to a place where they did some acting. There wasn't much acting in Fresno. In 1939 at the age of 20, Ross went to New York, heading straight to the Theatre Guild. After three days in, he got to see Theresa Helburn, one of the Theatre Guild's directors, who'd asked important questions about his background in theatre, the most important of answers that Ross had given her was that "he was the best natural born actor she'd ever seen." Ross had gotten that part of singing Greek newsboy in "The Time of Your Life," and every night he came out and sang "When Irish Eyes are Smiling" in addition to the six or seven lines he had with Eddie Dowling.
He didn't exactly steal the show with his performance, but two weeks later he was given the part of the pinball way and on the road. During that Summer, he was the assistant stage manager for a show called "Loves Old Sweet Song." The show had closed in three weeks, just in time for Ross to go on the road with "The Time of Your Life." It was during that period that he'd driven back to Fresno with his famous cousin, William Saroyan, and while they were in New Mexico he started singing a song that he'd been thinking about. It was called "Come On-A My House." Saroyan liked it and helped him to finish it.
Right after the show closed, Ross was called into the Army and spent the next four years in the Air Force as a control tower operator. He'd visited nearly all the European capitals while with the Air Force and did his job well, although he, as he quotes, "did nothing heroic except the time I kept Sam Williams from going into an off-limits joint and thereby saved him a painful trip to the medics." Ross went back to Fresno when he got out of the Army. He went back into grapes because he was looking for a good clean kind of existence and he figured that the vineyards where the answer. He met and married a wonderful girl, Armen Kulhanjian, and just his way of showing off to her he'd branched out for himself and leased sixty acres of land, all grapes, in order to make a small fortune and prove to her that her choice had been a wise one.
He'd worked hard with the grapes and when harvest time rolled around, he'd had the prettiest sixty acres of grapes anyone had ever seen. The market had dropped before they started and they had to give the grapes away. Upon Armen's insistence, she and Ross went to Los Angeles with two children, Ross Bagdasarian, Jr. and Carol Askine Bagdasarian, and an unpublished song called "Come On-A My House". Ross spent the next year and a half whistling, singing and stomping out the words and music of the song to anyone who would listen. Dave Barbour and Peggy Lee had told him that it was the wrong time of year for a song like that. Frankie Laine had said there was no use in trying to get a song like that recorded because dialect stuff just wouldn't get it. And so it went with many others until somehow Rosemary Clooney made a record of it and things had finally popped loose.
Ross kept writing songs and also started to do parts in pictures. The songs, in addition to "House," are "Oh, Beauty," "He Says Mm Hmm," "The Girl with the Tambourine," "What's the Use?," "Don't Nice Don-a-Fight," "Y-y-yup," and "Shepherd Boy," all published and all recorded. The pictures had been a 7 in numbers, the best of which had been the last two, by the best, as he quotes, "I mean I had featured parts in both of them." He wasn't expecting them to win any awards there and abroad, and he was pretty sure he himself wouldn't win either. The pictures being "Destination Gobi," by 20th Century Fox where he played the part of Paul Sabatello, and the yer, as of that time, unreleased "Alaska Seas" for Paramount, where he played the part of Joe, Jim's crewman.
Career
Bagdasarian, Sr. used $190 of the last $200 his family had to buy a state of the art recorder that switched speeds of voices. After experimenting with changes made to a piano, he recorded his own singing voice at half speed and played it back at normal speed, which would later become the vocals for The Chipmunks. Using this technique, he recorded "Witch Doctor" in 1958. Though this voice technique was created and used in "Witch Doctor," it isn't attributed to the Chipmunks until "The Chipmunk Song."
Bagdasarian, Sr. thought of naming the group "The Chipmunks" after he had recorded "The Chipmunk Song." One day when driving his car, a chipmunk jumped in front of his car, "Daring him to drive past" as his son Ross Bagdasarian, Jr. said in an interview. He thought of the audacity of the animal and that became the basis of Alvin. Alvin, Simon, and Theodore's names would came from his co-corkers.
Since his true name couldn't fit on a 45, Bagdasarian, Sr. took on the stage name of David Seville, which came from his love of a city called Seville in Spain. He voiced all three chipmunks as well as Dave in The Alvin Show and the music associated with the series.
Film Work
In addition to struggling as a songwriter, Ross Sr. would also routinely pop-ups in movies, during the 50s in very small parts and silent extra roles to try to supplement the money he wasn't really making as a songwriter. The movies being "Rear Window," "The Greatest Show on Earth," "Viva Zapata!," "The Proud and Profane," "Three Violent People," "Hot Blood," "The Deep Six" (which had the first Armenian-speaking scene in US history) and "The Devil's Hairpin."
One movie that Ross Sr. has a very small role in is the 1953 WW2 movie, Stalag 17. During the movies commentary, he got a mention for starting The Chipmunks, writing "Come On-A My House" with Saroyan, becoming wealthy enough to no longer be an extra, and Armenian food supposedly killing him.
Though The Alvin Show lasted one season, the series was unique in various ways. A laugh track was not used to tell people when to laugh since Ross thought that if the show was funny, the audience wouldn't need to be cued to laugh. The Alvin Show also did not contain violence. During the era, cartoon violence was very popular as seen by many shows from the 60's such as Tom & Jerry, The Flintstones, and The Jetsons. Considering that The Chipmunks started out as a musical group, Ross created the show as a musical comedy hour, using new songs for each episode.
After Death
Upon his death in 1972, the Chipmunks started to gain popularity again with reruns of the 60's show and the spark of a late night "Chipmunk" song. A disk jockey sped up a popular record named "Call Me" and stated that it was the newest song from The Chipmunks, starting a late 70s spark and the rest is history.
With this new spark, Ross Bagdasarian, Jr. revived the Chipmunks in 1980 with the release of Chipmunk Punk. Bagdasarian, Jr. also dedicated the first CGI film to his father. A title card shown in the end credits of the 2007 Alvin and the Chipmunks movie reads, "This film is dedicated to Ross Bagdasarian, Sr., who was crazy enough to invent these singing chipmunks nearly 50 years ago."
Quotes
Gallery
External Links
References
↑ 1.0 1.1 1.2 1.3 Alvin and the Chipmunks History, Web.archive.org, Retrieved 2015-07-16.
↑ The Dark, Angry Father of 'Alvin and the Chipmunks', Splitside.com, Retrieved 2017-11-26.
↑ Alvin 'Teen Magazine January 1960, worthpoint.com, Retrieved 2018-04-06.