The fan-maintained database of Alvin and the Chipmunks knowledge that anyone can edit!
The first official vocal appearance of Alvin and the Chipmunks was their three-time Grammy award-winning single "The Chipmunk Song (Christmas Don't Be Late)" in 1958. Driven by the success of this hit, Ross Bagdasarian, Sr. created The Alvin Show, The Chipmunks' first television series, in 1961 and the group's first solo album, The Alvin Show. After his death in 1972, his son, Ross Bagdasarian, Jr., relit the franchise in 1980 with the album Chipmunk Punk. Seeing an opportunity to continue his father's legacy, Ross Bagdasarian, Jr. and his wife, Janice Karman, launched the 80s Chipmunks with the TV series Alvin and the Chipmunks, The Chipmunks, and The Chipmunks Go to the Movies, lasting eight seasons total. They would also create The Chipettes in 1983 and release the first animated feature film, The Chipmunk Adventure, in 1987. In 2007, the franchise entered into a second revival which began with the release of the group's third platinum album, Alvin and the Chipmunks: Original Motion Picture Soundtrack, and the start of the CG Chipmunks. The CGI/live-action films Alvin and the Chipmunks, The Squeakquel, and Chipwrecked together opened the door for the creation of a new television series, ALVINNN!!! and The Chipmunks, and a fourth CGI/live-action film, Alvin and the Chipmunks: Road Chip, which are expected to premiere in 2015 and December 2015 respectively.
July 6
There's currently no featured franchise history for this date. Suggest additions here!
Only October 5 2015 19:00:00 EST until the kick-off of the Alvin and the Chipmunks: Live On Stage concert tour. This message will be displayed if the timer does not show up (like if the clock is loading or you do not have javascript enabled on your browser).
Only December 23, 2015 00:00:00 EST until the premiere of fourth CGI/live-action film Alvin and the Chipmunks: Road Chip! This message will be displayed if the timer does not show up (like if the clock is loading or you do not have javascript enabled on your browser).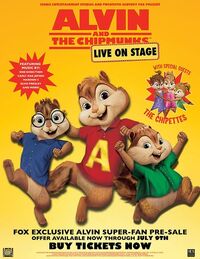 Alvin and the Chipmunks: Live On Stage
is an upcoming American Canadian live song and interactive performance tour. The performance features The Chipmunks, who are tricked by former arch­‐nemesis
Ian Hawke
to perform at a fundraising concert to save a dairy farm in upstate New York, as well special guests, The Chipettes. The Chipmunks will cover songs from One Direction, Maroon 5, Carly Rae Jepsen, and Elvis Presley, among others. Dwarfing the franchise's
national mall tour
, the
Live On Stage
tour comprises of 48 cities (in 5 provinces and 27 states + D.C.) stretched from October 5th, 2015 though December 6th, 2015. Event tickets, including VIP packages, for many of the tour's stops are currently available for purchase with all locations available by mid-July.
Will you be attending a performance in the Alvin and the Chipmunks: Live On Stage tour?
What do you think about the character looks for the ALVINNN!!! and The Chipmunks series?
Look for your favorite...
Vote for your favorite...
Forum Activity
Loading RSS data...
Justin Long as Alvin
Matthew Wilder as Simon
Jesse McCartney as Theodore
Christina Applegate as Brittany
Anna Faris as Jeanette
Amy Poeler as Eleanor
Jason…

Read more >

All editors and readers: please give this blog a few moments of your time for input.

This discussion is in response to Layout Changes: Breakpoints and …

Read more >