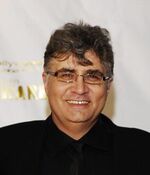 Maurice LaMarche (born March 30, 1958) is a Canadian-born voice actor and former stand up comedian. A couple of his most recent voice appearances include additional voices in The Legend of Korra and Root Beer Tapper in Wreck-It-Ralph.
LaMarche is the voice for Lawrence Talbot in the direct-to-video film Alvin and the Chipmunks Meet the Wolfman.
External Links
Ad blocker interference detected!
Wikia is a free-to-use site that makes money from advertising. We have a modified experience for viewers using ad blockers

Wikia is not accessible if you've made further modifications. Remove the custom ad blocker rule(s) and the page will load as expected.