Liberty Records
Talk

0
554pages on
this wiki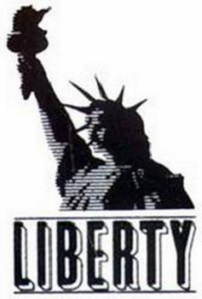 Liberty Records was a United States-based record label. It was started by chairman Simon Waronker (who became the name for Simon) in 1955 with Al Bennett (Who became Alvin) as president and Theodore Keep (Who was the name for Theodore) as chief engineer. It was reactivated in 2001 in the United Kingdom and had two previous revivals.
Liberty's early releases focused on film and orchestral music. Its first single was Lionel Newman's "The Girl Upstairs." This was Liberty Record's first big hit.
By 1958, Liberty was close to bankruptcy when Ross Bagdasarian, Sr. convinced them that they might as well press singles of The Chipmunk Song (Christmas Don't Be Late) with the leftover vinyl pucks and labels in their warehouse. In just a few months leading up to Christmas of 1958, the record shot to the top of the charts. It became the only Christmas record to reach #1 on the pop chart, selling 4.5 million copies. Liberty was back in business.
1960's and 1970's
Edit
In 1968, Liberty was bought for $38 million by Transamerica Corporation (an insurance company) and combined with their other label United Artists Records. Two years later they shut down Imperial and Minit and transferred their artists to Liberty. Finally in 1971, Liberty and its remaining labels (with the exception of Soul City in which the name was held onto by its owner Johnny Rivers and its catalog sold to Bell Records) were shifted to United Artists Records and Liberty Records was no more.
Soon after, Liberty Records was bought once again by another company by the name of EMI, changing Liberty Records name once again.
1980's and 1990's
Edit
In 1980, EMI dropped the United Artists name and revived the Liberty name. Initially, EMI used Liberty to reissue the United Artists, Liberty and Imperial catalogues. From 1980 until 1984, Capitol used Liberty as a country music label, featuring such artists as Kenny Rogers and Dottie West. In 1991, EMI renamed its Capitol Nashville label to Liberty Records, before returning to the Capitol Nashville name four years later.
After releasing many late-1990s Europop records like the Hermes House Band, EMI reformatted the label in 2001 to focus on 'heritage acts'.