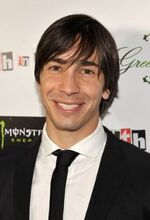 Justin Jacob Long
(June 2, 1978) is an American actor known for his performances in the films
Jeepers Creepers
, 
Dodgeball
, 
Herbie: Fully Loaded
, the TV series
Ed
, and his personification of a Macintosh computer in Apple's "Get a Mac" advertisement campaign.
Long provides the voice of Alvin in the CGI/live-action films Alvin and the Chipmunks, Alvin and the Chipmunks: The Squeakquel, and Alvin and the Chipmunks: Chipwrecked.
External Links
Ad blocker interference detected!
Wikia is a free-to-use site that makes money from advertising. We have a modified experience for viewers using ad blockers

Wikia is not accessible if you've made further modifications. Remove the custom ad blocker rule(s) and the page will load as expected.