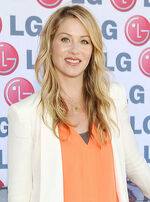 Christina Applegate
(born November 25, 1971) is an American actress best known for her role as Kelly Bundy on the sitcom
Married... with Children
.
Applegate provides the speaking voice for Brittany in the CGI/live-action films Alvin and the Chipmunks: The Squeakquel, Alvin and the Chipmunks: Chipwrecked, and Alvin and the Chipmunks: The Road Chip. She also made a cameo appearance in The Squeakquel as one of the dancing girls seen during the "Witch Doctor" scene.
External Links
Ad blocker interference detected!
Wikia is a free-to-use site that makes money from advertising. We have a modified experience for viewers using ad blockers

Wikia is not accessible if you've made further modifications. Remove the custom ad blocker rule(s) and the page will load as expected.