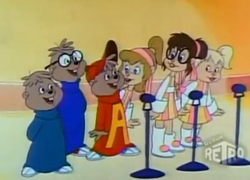 This is a nearly complete list of characters that make a notable appearance from all the episodes, specials, and films. Alternate identities are included on their own separate pages linked below.
Main Characters
Animated Characters
60s TV series
Bentley Van Rolls III
Billy Brown
JP Lester
Pictorial Crashcup
R. B. Huston
Reese
Roger Marsell
80s TV series
Bambi Apple
Bill
Billy Diggens
Billy Bones
Chaz
Chucky
Clarence
Crazy Willy
Crystal
Dolly Parton
Dr. Rutter Wisenheimer
Ed
Eddy
Edward Ralphs
Erik Miner
Freddie
General Heskal
Gus
Heather Williams
Heidi
Honey Ginger
Jillian
Julie
Lance
Linda Stone
Luke the Strongman
Marsha
Max
Maxwell
Michael
Milton Schwartz
Miss Pinch
Missy Snootson
Molly
Mona Gabbs
Mr. Buckner
Mr. Colorado
Mr. Digbe
Mr. Winters
Myron the Junk Man
Nickolas Rockwell III
Pedro
Pinky the Elephant
Robby Leach
Sandy
Sergeant Bulregard T. Granite
Shifty
Tara-Marie
Tex
The Shadow
The Thrillers
The Wild Chipmunk
Tiffany Price
Uncle Ben
Wings Walker
Films
CG-Animated Characters
Also see: ALVINNN!!! School Characters
Amber
Annie
Auggy
Austin
Basil Sanders
Beatrice
Birdy
Bruce
Cecil B. Cooper
Cheesy
Chloe
Dr. Haywood
Emil Hurchif
Floyd Dotson
Jamie
Jenny
Jerry Berry
Jessie Sobel
John
Kent Harris
Logan
Mary-Anne
Miles
Mildred
Miss Haversham
Miss Hilbert
Misty
Mr. Crabble
Mr. Figgle
Mr. Humphrey
Ms. Whiskers
Neville Humphrey
Pamela D.
Pamela Glockenshlocker
Patrick
Professor Perkins
RayRay
Roise
Rory
Sandy
Sergeant Daniel "Danny" Dopkins
The Amazing Bryan
The Miltons
T.J/Bartholomew
Tracy
Tracy Lane
Vanessa
Warbie
Warren
Live-Action Characters
Main
Puppets
Minor
Alice
Charice
Emily
Emcee
Lil' Rosero
Ms. Price
Tessa
Valentina
Ad blocker interference detected!
Wikia is a free-to-use site that makes money from advertising. We have a modified experience for viewers using ad blockers

Wikia is not accessible if you've made further modifications. Remove the custom ad blocker rule(s) and the page will load as expected.