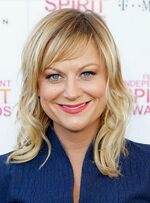 Amy Poehler
(born September 16, 1971) is an American actress, comedienne, and producer best known for her cast role on
Saturday Night Live
and for portraying Leslie Knope in the television series
Parks and Recreation
.
Poehler provides Eleanor's speaking voice in the CGI/live-action films Alvin and the Chipmunks: The Squeakquel and Alvin and the Chipmunks: Chipwrecked.
External Links
Ad blocker interference detected!
Wikia is a free-to-use site that makes money from advertising. We have a modified experience for viewers using ad blockers

Wikia is not accessible if you've made further modifications. Remove the custom ad blocker rule(s) and the page will load as expected.