This article is about the toys associated with the 1983 series. For other uses, see Alvin and the Chipmunks (disambiguation).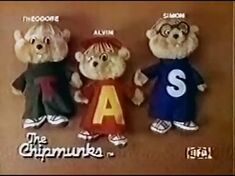 In 1983, The Ideal Corporation made plush dolls of Alvin, Simon and Theodore. They stand 10-12 inches tall.
There were eight outfits featured together on earlier back packaging for the dressable Chipmunks to wear, but there was also a ninth outfit (the Santa outfit).
Alvin
Alvin, the antagonist of the group, is the mid-sized in this set. He is about 11 inches in height.
Simon
Simon, the smart one, is the tallest of the group, at about 12 inches in height.
Theodore
Theodore, the somewhat chubby and smallest chipmunk, is about 10 inches.