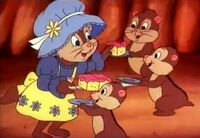 Ally is a rodent of some species, with a voice higher than The Chipmunks, who appears in the special, A Chipmunk Reunion, as the house-sitter for Vinny's home. She was the one who found The Chipmunks collapsed outside before she cleaned and bandaged their wounds after the boar chased them through the woods. During the boys' birthday party, she cut their cake and handed it out to the other forest creatures.
Ad blocker interference detected!
Wikia is a free-to-use site that makes money from advertising. We have a modified experience for viewers using ad blockers

Wikia is not accessible if you've made further modifications. Remove the custom ad blocker rule(s) and the page will load as expected.