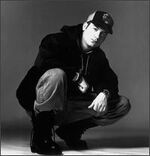 Ali Dee
is a DeeTown Entertainment song writer who helped put together multiple tracks in the first CGI/live-action film 
Alvin and the Chipmunks
for the
Alvin and the Chipmunks: Original Motion Picture Soundtrack
.
Ali Dee's genre of music is rap, and he was popular in the 90's. He is the reason for some of the rapper-like lyrics and sounds to some of the Chipmunks' songs.
He is also known for his dance style.
External Links
Ad blocker interference detected!
Wikia is a free-to-use site that makes money from advertising. We have a modified experience for viewers using ad blockers

Wikia is not accessible if you've made further modifications. Remove the custom ad blocker rule(s) and the page will load as expected.